Tuesday - Thursday, Sunday

10:00 - 22:00




Friday - Saturday

10:00 - 23:00

Monday - sanitary day


phone: +38 (0352) 22-07-97, 52-82-82
This is the first and the only Ternopil Aqua Park, its area is 2700 square meters. 450 people may be freely sited here at the same time. There are three swimming pools of different types in general volume near to 900 cubic meters in the Aqua Park.
A multimedia attraction "Black hole" with lighting effects, stereo sound and opportunity for multiprogramming is represented in "Limpopo". When you fly in it, you may see an incredible play of light and hear the most unexpected sounds. The height of start of "Black hole" is 12,5 meters, and the length of this exotic "route" is 160 meters. Another one "Body slide" is slightly lower (6,5 meters) and almost twice as short, but thrill-seekers will definitely like it too. Two steep slides "Kamikaze" are 10,5 meters high and 33 meters long fully correspond to their names. By the way, only adult and brave lads, who are elder than 12, are allowed to go down these waterslides. "Family slide" (4,5 meters high and 20 meters long) is perfect for parents with small children. By the way, all attractions are made in Poland and conform to European standards of quality, sanitary norms and are absolutely safe.
Lanes for sports trainings (25 meters long – short water) are organized in an adult swimming pool. The deepest places in the swimming pool are up to 1,5 meters. The shallowest one has only 20 centimeters. Every visitor, regardless of the growth, may swim in comfortable for him place.
Two children swimming pools are organized for small children. One of them is 90 centimeters deep for swimming lessons, another is from 20 centimeters to 40 centimeters deep. Children may learn to swim in addition to simple splashing in the water. The process of learning will be controlled by experienced trainees-instructors. Concerning to amusements, children will definitely like the attractions: "An octopus with an umbrella", waterslides "An elephant" (with an added elongated descent) and "A rabbit", nice "Mushroom", which blows fountains of hot water out. By the way, specially prepared animators will watch over the children rest. It will be very interesting to play different games with them and take part in competitions.
Special spa-area with all kinds of hydro- and aeromassage is organized for these, who like to relax in water. Turkish bath Hammam is a peculiar "raisin" of the complex. Everything is done in the best eastern traditions – marble, an access of steam from all sides, a big table-deck chair in the middle. By the way, an opportunity to lie and relax is an important precondition for an effective massage. Each bath, which respects itself, can't dispense with it. Moreover, the massage in "Limpopo" is got by extremely qualified specialists. You may also visit a solarium, gyms for fitness exercises with power training machines or just spend a time in a bar.
Specialized café "Limpopo" in the Aqua Park can seat up till 100 visitors. A cocktails list of this café includes tasty non-alcoholic cocktails, consequently parents may bravely treat their children to exotic and useful drinks.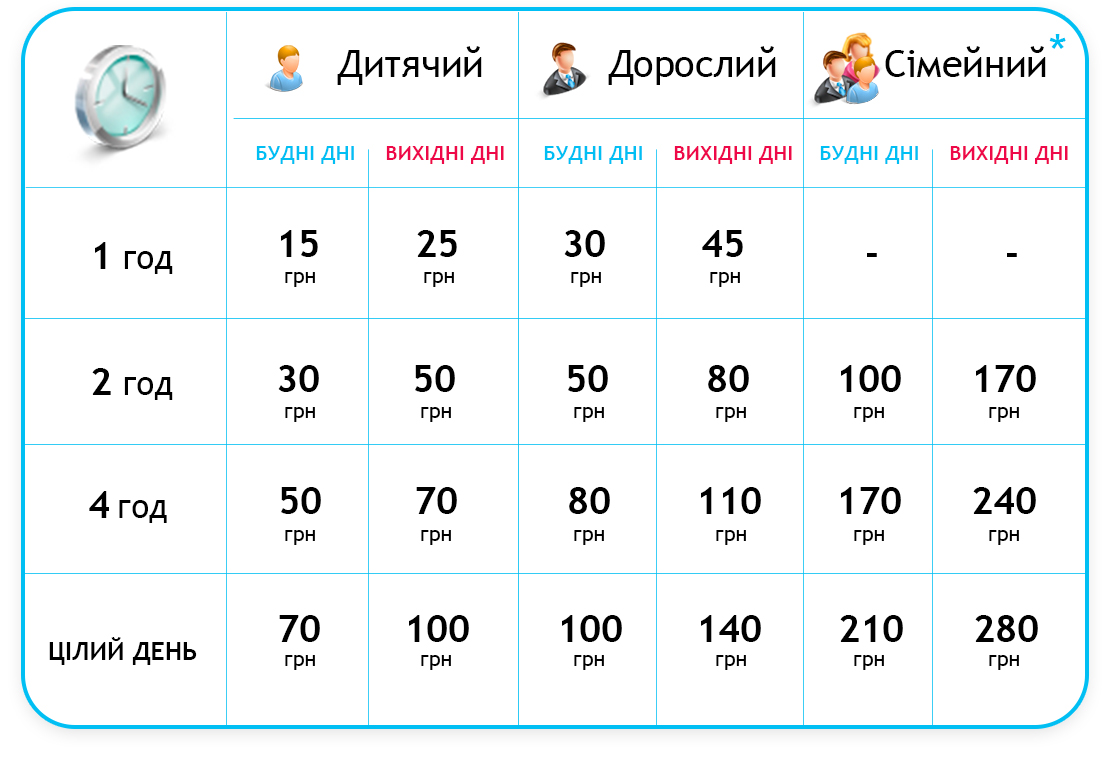 | | |
| --- | --- |
| | A family is a mother + a father + a child (under 12) |
or a mother + 2 children
(under 12)
or a father + 2 children
(under 12)
Every next child on weekdays
Every next child on weekend
10 UAH for an hour
50 UAH for a full day
15 UAH for an hour
70 UAH for a full day